Biofuels Offered at Golden Gate
---
Golden Gate offers a wide variety of biofuels delivered to Private and Public Fleets for powering their vehicles and equipment. Biofuels are used in diesel and gas powered trucks, construction equipment, on/off road vehicles, farm equipment, generators and more. We guarantee all of Golden Gate's biofuels are of the highest quality, tested to meet standards, and are produced responsibly with carefully chosen renewable feed stocks. Customers can trust that our fuel offerings come with a guarantee to provide ASTM-quality biofuels.
Golden Gate Petroleum is an innovative organization continually searching for new, cutting-edge fuel products and services to benefit our customers and their fueling operations. Heading up the Biofuels Division, Vice President Patrick O'Keefe keeps his finger on the pulse of the Biofuels Industry, making it possible for Golden Gate to offer these fuels before any of their competitors.
In 1996 Golden Gate Petroleum made arrangements to transport ASTM-quality biodiesel from Florida to California via rail car. Taking a leap of faith and coordinating the transport of a new, unpopular at the time, petroleum-free fuel across the country made it possible for our Golden Gate customers to be the first to use biofuel blends in their fleets.
Again in 2013, Golden Gate's Patrick O'Keefe made arrangements for Renewable Diesel to enter into the California marketplace to be used as a fuel in commercial fleets in 100% blends.
If you are a Fleet Manager, Business Owner, State or Local Fleet Operator who is interested in using a petroleum-free alternative fuel in your vehicles, biofuels are definitely the fuel of choice for your fueling operations. Biofuels are 100% renewable and are produced from natural resources such as soy oil, corn oil or waste oil. Supporters of biofuels believe that these fuels will significantly reduce greenhouse gas emissions. Biofuels sold at Golden Gate are top quality and we promise to provide our customers with the best fuels available for purchase on the market.
NEXDIESEL Renewable Diesel
---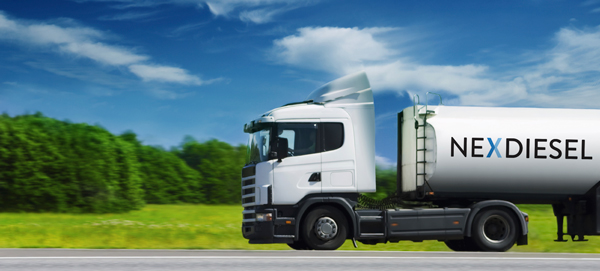 Golden Gate Petroleum is the pioneering purveyor of NEXDIESEL Renewable Diesel in the United States. We are the first company in the United States to offer this product to our customers. It does NOT need to be blended in any diesel engine and no engine modifications are needed. This means your vehicle fuel consumption can be 100% petroleum free, sustainable and renewable.
What is Renewable Diesel?
---
It is a chemically indistinguishable hydrocarbon to traditional petroleum diesel, but based on its superior quality, it easily outperforms both conventional fossil diesel and biodiesel.
RD is 100% renewable and sustainable.
It allows any diesel powered vehicle to operate petroleum-free with no operational issues.
Thanks to a high cetane number (70-90), RD combusts efficiently, keeping engines clean. RD can be used in all modern diesel engines without any modification as such or blended with fossil diesel in various concentrations.
RD meets the petroleum diesel standard ASTM D975.
RD's storage qualities are excellent.
Excellent cold weather performance means that RD can be used year-round even in very cold climates.
Biofuel Diesel
---
Golden Gate Petroleum has been distributing biodiesel since its debut into the market place in 1996. We have established ourselves as the industry leader for meeting all of your biodiesel needs. We have the experience to help your fleet with the transition to biodiesel blends. Golden Gate Biofuels has the ability to handle any demand both domestically and internationally.
In addition to providing our customers with a quality product and efficient service, Golden Gate Biofuels is a solid company who continues to meet the fueling needs for thousands of our customers throughout the Western United States since 1946.
---
Biofuel Blends
---
We Offer Blends!
Whether you would like to use a 100% renewable fuel or a renewable blend, Golden Gate will customize your order. For example, we sell B20, a 20% biodiesel and 80% petroleum diesel blend.
How to Order Biofuels
---
Interested in fueling your business or fleet with a biofuels product or blend?
---