This is reposted from the San Franciso Chronicle.
Story by Isha Salian | September 14, 2017 | Photos by Lea Suzuki.
Renewable diesel sounds like a contradiction in terms. But planners for the Capitol Corridor trains, which run between the Bay Area and the Sacramento region, see it as a way to slash climate-warming emissions.
"It's pretty exciting for our industry," said Jim Allison, manager of planning for the Capitol Corridor Joint Powers Authority. On Aug. 28, a train between Oakland and Auburn began running entirely on the fuel from Golden Gate Petroleum of Martinez — part of a test that, if successful, could herald its use throughout the Capitol Corridor system and in trains statewide.
The Bay Area is rapidly becoming a center for renewable diesel, which can be made from vegetable oils, restaurants' oil waste or animal fats — material known in the industry as biomass. Unlike biodiesel, which has to be mixed in with petroleum diesel, the new fuel can go into a tank at 100 percent strength. The cities of San Francisco and Oakland and the San Jose Unified School District have begun using it in their vehicle fleets, and operators of San Francisco Bay ferries are looking at it too.
"We can sell every drop of renewable diesel we make," said Eric Bowen, head of corporate business development for the Renewable Energy Group. The company sells the fuel mostly to the California market, he said. Its Louisiana plant can produce 75 million gallons of renewable diesel each year, and it is looking to expand its facilities.
Demand for renewable diesel has soared. In 2011, 2 million gallons of the fuel were used in California, according to the Air Resources Board, which sets rules for emissions and climate change in the state. In 2016, it was 250 million gallons — about 7 percent of all liquid diesel used.
California's interest comes largely because of a policy called the Low Carbon Fuel Standard, which requires a 10 percent reduction in the carbon intensity of transportation fuels by 2020. Simon Mui, senior scientist at the Natural Resources Defense Council, said that depending on what the renewable diesel is made from, it can cut lifecycle greenhouse gas emissions by 15 to 80 percent. (Lifecycle emissions include growing the raw materials that turn into fuel; transporting and processing it; and finally burning it.) Renewable diesel also reduces fine particle pollution and other types of emissions, like nitrogen oxides and carbon monoxide, Mui said.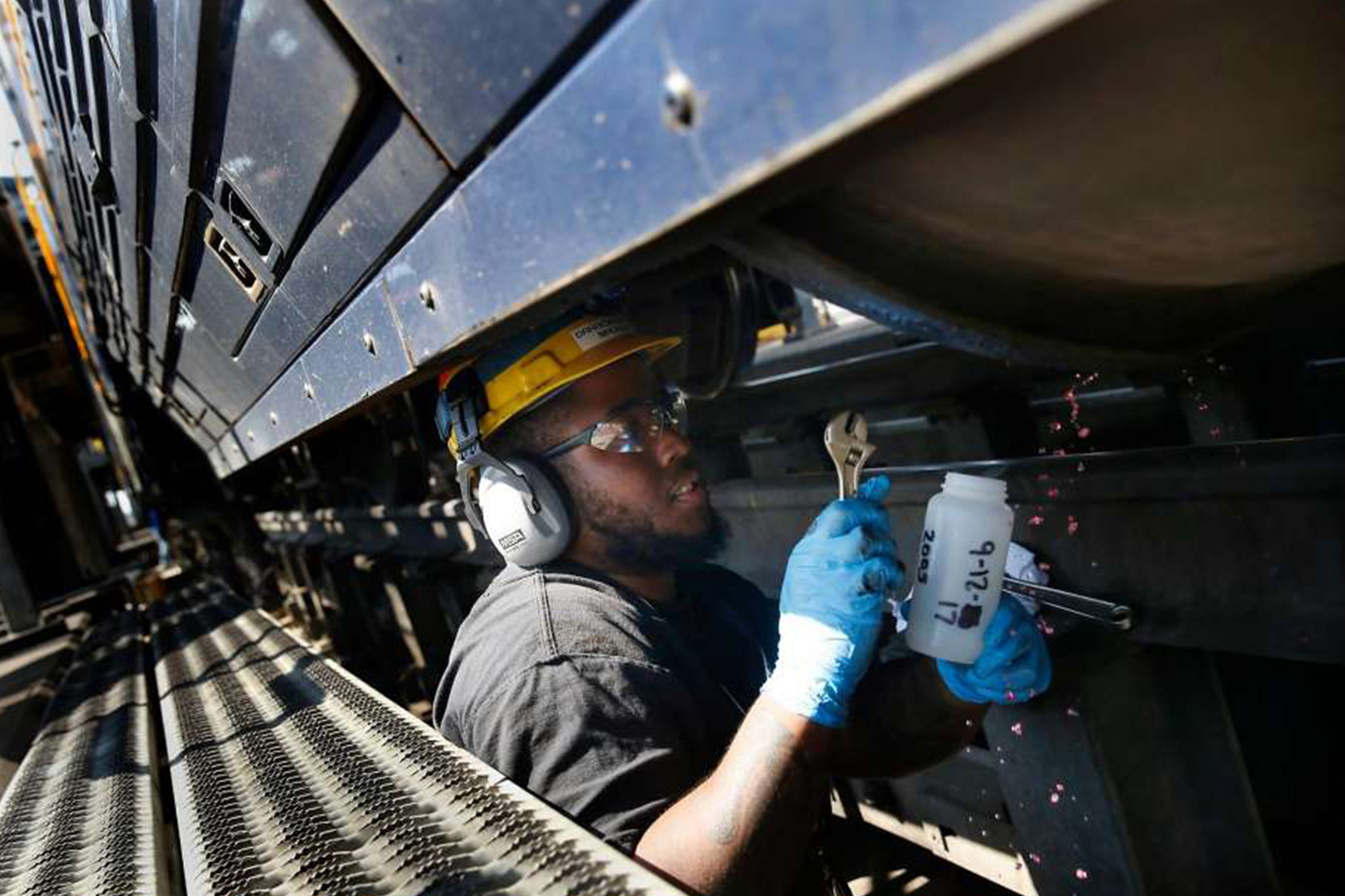 Amtrak machinist Darrion Brown takes a sample of renewable diesel from the fuel tank
on a Capitol Corridor locomotive to be tested.
Some experts question how much the renewable diesel market can grow.
"The more we study biofuels, the less clear it is there's very much of a sustainable supply," said Daniel Kammen, a UC Berkeley professor who helped write California's Low Carbon Fuel Standard. Biofuels are always less efficient than electric vehicles, he said.
Kammen studies carbon emissions using a lifecycle analysis, analyzing the ecological impact of the entire process. From that perspective, "it really doesn't matter the source of your material," he said. "Getting large supplies of a truly sustainable biomass is a challenge."
Proponents of renewable diesel point out that while passenger vehicles (which mostly run on gasoline, not diesel) seem likely to go electric in the near future, a more sustainable diesel may be a good option to reduce emissions for larger, heavier vehicles — at least until more powerful batteries are developed to make electric trucks and buses cost-effective.
"We don't meet our state goals unless we have a full array of those electrified fleets as well as liquid-fuel-based fleets," Mui said. "The key here is enabling all of these technologies to be on a level playing field, so a winner or winners can be determined by the market."
Sam Wade, chief of the transportation fuels branch at the Air Resources Board, said that while heavy-duty vehicles may eventually switch to electric power, "there's not that many applications that are fully viable today. We see (renewable diesel) as a nice near-term opportunity."
Neste, a Finnish company that is the world's leading producer of renewable diesel, makes between 800 million and 900 million gallons each year. The company said a major limit to growth is competing with the traditional diesel industry. "They've got an 80-year head start on us," head of North American public affairs Dayne Delahoussaye said.
Not every company is able to build renewable diesel into a successful business. South San Francisco nutrition company TerraVia, formerly called Solazyme, struck an agreement in 2015 with UPS to supply its trucks with renewable diesel derived from algae oil. But the company, which sold its assets in a bankruptcy sale this week, had shifted away from renewable fuels partly, it said, due to a decline in crude oil prices. (UPS continues to use renewable diesel in some of its trucks, mostly in California.)
Propel Fuels, a Sacramento company that operates 32 retail locations selling renewable diesel, says it keeps its prices competitive with petroleum diesel. "We don't think a market exists for premium-price renewable diesel," said CEO Rob Elam.
Elam said Propel has a large presence in disadvantaged communities, serving customers who want to choose cleaner fuels but cannot afford electric vehicles. Other renewable diesel customers pick the fuel for higher power and mileage, he said.
Richmond resident James Clappier has been using renewable diesel from Propel Fuels in his 1994 Dodge Ram 2500 since the company began stocking the fuel in 2015. "I need a large truck for my business, but feel bad for using such an inefficient vehicle," he said.
Capitol Corridor trains have been testing diesel alternatives for a few years, and its switch last month to 100 percent renewable diesel for the Oakland-Auburn run makes it the first train in the state to run on the fuel, Allison said. If further tests go well, all Capitol Corridor trains could switch over to renewable diesel by next summer, according to Dean Shepherd, manager of mechanical services.
Allison estimates that shifting to renewable diesel in all of its locomotives, which each need about 70 gallons of fuel per hour, would reduce the trains' greenhouse gas emissions by two-thirds. He is optimistic that testing will go well.
"If there were any issues, we'd see them quickly," he said.
Isha Salian is a San Francisco Chronicle staff writer. Email: [email protected] Twitter: @Salian_Isha
Read Article @ SFChronicle.com